Week 2: Faithful Finish Lines – Simple & Measurable Plan
Week 2: Eating for Energy Goal & Faithful Finish Lines Prayer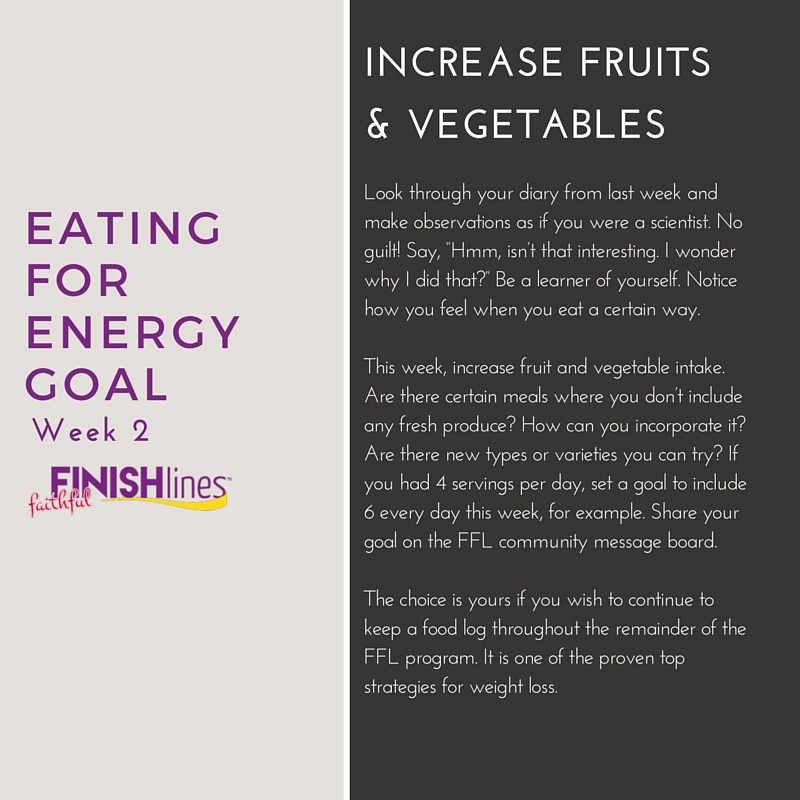 Click here for a PDF download of this photo: Eating for Energy Week 2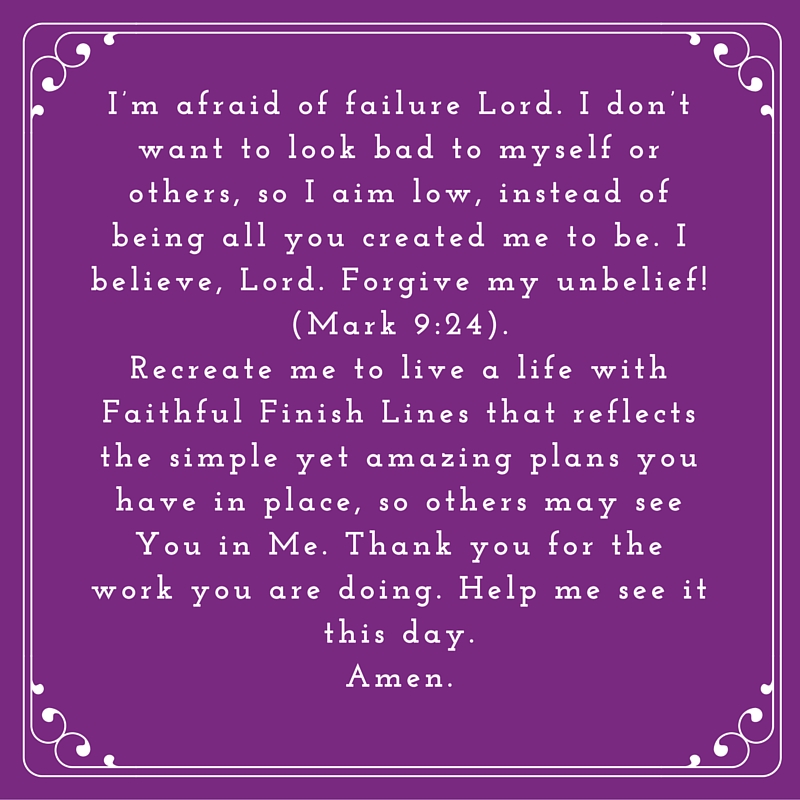 Click here to download this prayer as a printable: FFL Prayer Week 2
---
Day 1: "Goals scare the #$%^ out of me!" (Sunday)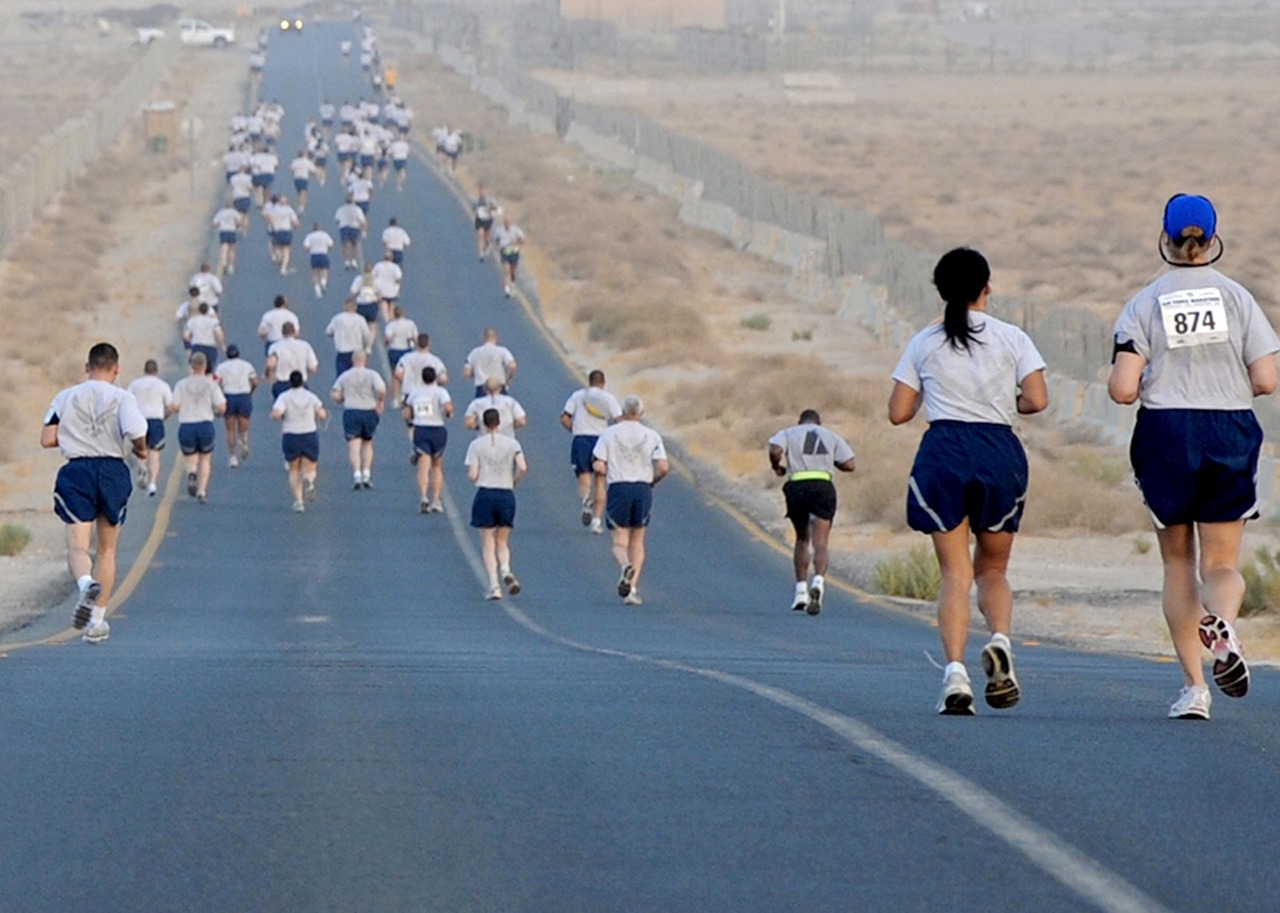 Are you afraid to set goals?
If you are afraid to set goals, you are not alone in your fears.
Unfortunately these fears hold you back from achieving what you want in life and even more, what God has planned for you. Your calling in life is a combination of your God-given personality plus your God-given talents, in line with meeting a need in the world.
In other words, your calling requires thought and action on your part. God calls. You go and do.
Setting goals and action steps can be a worldly activity, or when done with prayer and spiritual direction, it can be a holy process of doing your best to act out your calling to God's glory. Our enemy, Satan, wants to hold you back from hearing the big dreams God has in mind for you.
Satan wants to throw curve balls that thwart your success.
"What if I set the wrong goal?"
 One of the big questions you might ask is, "How do I know I'm doing God's will for me?".
Ephesians 5:17 says, "Therefore do not be foolish, but understand what the will of the Lord is." The Bible clearly tell you God's will. It sounds simple, yet…it isn't simple to carry out.
The Bible gives you God's overall plan for salvation, an explanation of His divine nature, and lots of history. There is so much great guidance. There is not, however, a chapter and verse about what house Sara Borgstede should buy, what career she should choose, or where she should go on her next vacation.
How do you figure this all out?
The answer is in recognizing you have received the Holy Spirit at the time of your baptism or when you accept Christ as your Savior. The Holy Spirit living in you guides us in discerning God's will for your life. This is a living, active relationship as you allow Him to work through you.
God also desires that you deeply know Him through the study of His word, the Bible, and through prayer. Just as with any relationship, the more time spent together, the more you know a person.
If I am committed to my husband but rarely spend time with him, it will be hard for me to know what he likes, dislikes, or might desire. Yet if I often spend time with him, talk to him, value him, ask him questions, and seek him out on a regular basis, it's not hard for me to tell you what his heart most desires, without even having to ask him.
"What if I fail?" What if you do? One of the best lessons I've learned from being a triathlete is that failure won't kill me.
I've had races where I finished last – absolutely the last person to finish the race. I've had races where I did not finish. I've had injuries and other situations that held me back from achieving my goals.
I'm still standing. None of it killed me. These were huge disappointments at the time, but each one taught me something. In time I was able to see that the "failure" was worth the effort and learning process. I don't regret trying.
Goals are not snakes. They are nothing to fear!
---
Day 2: Set Your Goal (Monday)
Your challenge for today is to set a goal to carry you through the completion of our 7 weeks together with Faithful Finish Lines.
For many people, an excellent goal is to walk or run a 5K (3.1 miles). Here is a training plan that is simple, safe, and realistic.
Click here to view and for a printable download:
*As with any exercise plan, check with your doctor before beginning.
Almost every area of the United States and many other countries have 5K races in which you can participate to complete your goal. If there isn't one in your area, consider asking some friends or your family to complete your challenge together with you. (Check out http://www.active.com/ or http://www.runnersworld.com/race-finder for races in your area.)
Modify the program to what works for you. Adapt to your current fitness level. If you have arthritis and walking 3 miles is unrealistic, find a pool workout that would be similar, a chair workout, or some other program that gradually increases in intensity or endurance. Everyone can do something! Check with Corinne, our Faithful Finish Lines personal trainer, if you need additional help with modifications. Reach Corinne at [email protected] We are here to help you achieve success!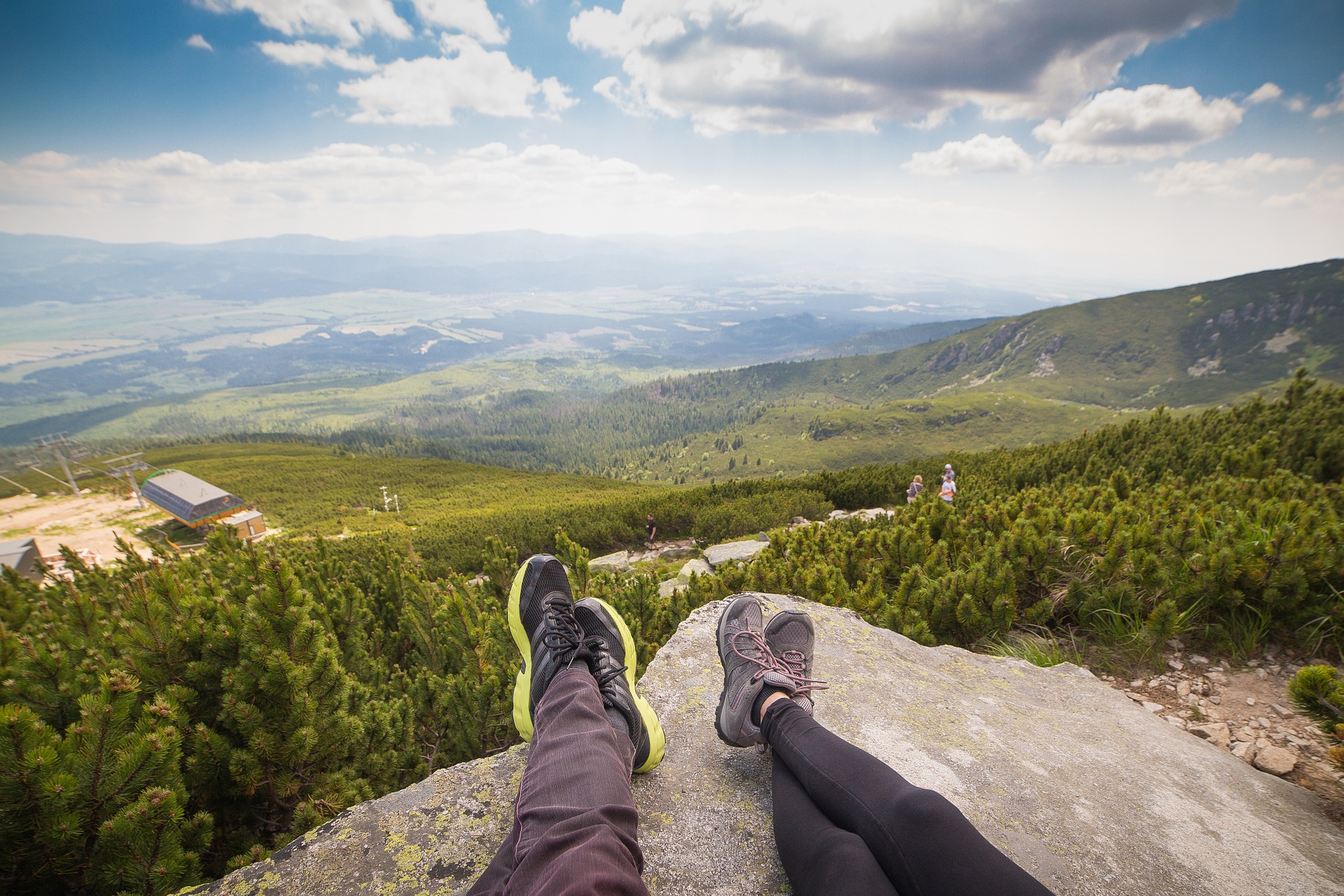 If you are ready for a more challenging goal, or you are currently training for a race of a longer distance, incorporate this into your training. Set a goal for speed. Consider a trail run, mud run, or other event to increase the challenge. (See Corinne's plans for higher-level challenges, including half-marathon and marathon training plans.)
Important!!! You must commit to one specific goal, on one specific date during the 6th or 7th week of our Faithful Finish Lines program.
Let me know what event you are doing so we can cheer each other on!
Many people ask, do I have to run a formal race or can I do it on my own? You have two options:
1. A formal race: I recommend an actual race whenever possible. Yes, it's going to cost you some money. Spend some cash! Once you have dished out some of your hard earned green ones, you will be more invested in seeing the program through. Plus, there is something about a real race, with a finish line, a starting gun, and people cheering that makes you feel official. It's a totally different experience. Whenever possible, go the extra (figurative) mile and choose this one. You get out of it what you put into it!
2. A personalized goal. If an official 5K is not going to work for you due to weather, lack of a race in your area, health, or some other reason, make accommodations. Choose a day on your calendar and circle it BIG in your favorite color. Give your event a name, like "Sara's Best Ever Smash-it-Up 5K." Who cares if it's silly? It's for you. Make it fun and exciting. That way, on those tough days, like when the alarm goes off at 5:00am, you want to eat chips at 10:00pm, or you want to come home from work and crash on the couch instead of going to the gym, you have motivation!
Here are some possible modification ideas:
Walk/run a 5K on a treadmill or indoor walking track.
Walk/run a 5K at a local park. Invite friends to join you. Have your family cheer you on. When some of my triathlon teammates were training for long events, we would train our long runs at a local park that has a 3 mile loop around the outside. If someone was training a 10, 12, or 20 mile run, friends would come and join in for one or two loops. We would set up water stops and mini aid stations at our cars, too.
My friend Jan and I have a tradition that every year in the week between Christmas and New Year's Day we do our annual "Triathlon at the Gym." It's the most laid-back triathlon known to man. We swim a half mile then take a shower. 🙂 Then we get on the spin bikes and spin for an hour. Then we change shoes and get on the treadmills and walk/run for 3.1 miles. We talk and keep each other motivated. It's not fast, but we feel great accomplishing this during our off-season.
A virtual 5K. How about some of us in this Faithful Finish Lines group decide to run/walk a 5K at the same time, on the same day, all together, in our own states all across the country as part of the FFL program and take pictures and cheer each other on in spirit? All the groups have done this so far and it's a blast!
Be creative. What motivates you for a Faithful Finish Line? This is about growing YOU into the person God created you to be!
Whatever it is, choose some type of final goal with a date and time marked on the calendar!
Say What?
Please note: The training plan is written for 7 weeks and we are in Week 2 of the FFL program. We wanted the plan to be somewhat adaptable to a variety of fitness levels and race dates.
Start with Week 1 if you are not currently exercising.
If you are already working out on a regular basis, find a week that matches your currently level of fitness for what you can EASILY accomplish on a typical day with moderate effort. Then move forward. If you have any questions, please contact Corinne to make modifications that are right for you. We are here to help you achieve success!
---
Day 3: Set a Goal (Wednesday)
Click on the image below for a printable version.
---
Day 4: Keep it Simple (Friday)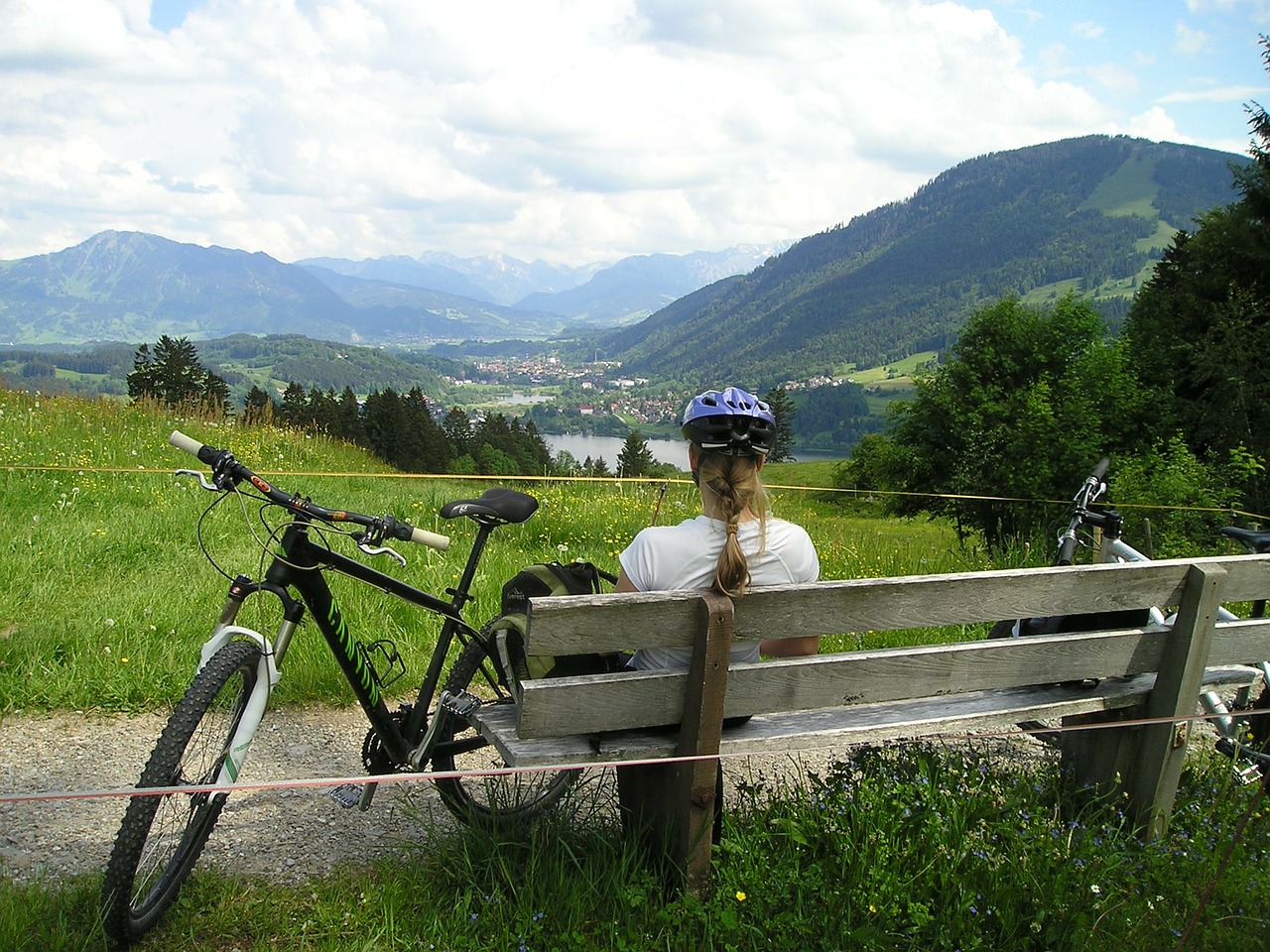 When starting a new fitness plan, the temptation comes to jump in with vigor and start making tons of positive changes. I'm going to drink 12 glasses of water a day! I'll go to the gym 5 times a week! I'll eat all whole foods!
What happens? Soon, you have fallen off the bandwagon and it's back to your old habits.
Follow this program and stick to the goals. Start with the exercise that is outlined. If you find yourself making healthier food choices, fantastic! If not, grace and more grace.
Don't jump into doing a lot more exercise than what the plan calls for, as tempting as it might be. Plan your work and work your plan.
When I lost over 100 pounds, I started with therapy. After I had been going to therapy for about 6 months, I joined Weight Watchers and changed my eating. Six months after that, I added exercise into my program. If I had attempted all those steps at once, it would have been way too much for me to handle both physically and emotionally.
Start small with steps you know you can incorporate for the long term.
---
Copyright © 2016 Sara Borgstede, Motivational Speaker and Author, All rights reserved.
Content as part of your exclusive Faithful Finish Lines membership.