For me the community support and the access to the leaders has been the most important aspect of the program! Setting the goals and going through the process is important as well, but having the extra encouragement and motivation to actually follow through with the goals was key! –Denise D., Blogger at The Ramblings of Denise Dilley

I just wanted to share my day with you all- today was my 'mission' day of the program & I volunteered at a local homeless shelter serving lunch. It was the most moving thing I have experienced in a LONG time! Those folks have next to nothing, but were the most gracious and loving people! I found myself fighting back tears most of the morning. I needed the reality check to see just HOW blessed I truly am. God has provided so much in my life. Thank each and every one of you for sharing your struggles & victories with me- I am truly honored to be a part of this wonderful group! Hugs to you all! –Jill C.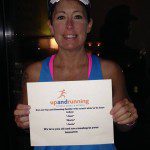 I think what has helped me is changing my mindset and not beating myself up when I have something that's 'off limits'. Before FFL started I'd have a couple Oreos then chastise myself about eating them then go eat about 6 or 8 more because I'd already blown it. Today I chose to have two Oreos and told myself it's OK…not an ounce of guilt. Best two Oreos I've ever tasted! –Shannon S.
I take a moment to read the emails and the programs and realize this really is the program I have been needing. Every time I expect it to be some new goal that isn't really attainable. It is such a joy to actually have goals that are achievable. I keep reminding myself this time it isn't all or nothing. This isn't one major overnight change. Thank you for making this a program that is not defeating, but a program that is encouraging and realistic. –Kristy H.

I am so grateful for the privilege to be associated with Faithful Finish Lines. My life has been enriched, if not transformed, by Sara's instructions and encouragement. I am thrilled to be a part of the great community of inspired and inspiring fellow Finish Liners.

–Sharon, Blogger at I Dare To Be Happy