Week 3: Faithful Finish Lines include Mission and Fun!
Week 3: Eating for Energy Goal & Week 3 Prayer
Click here for a printable download: Eating for Energy Week 3
Additional notes about protein intake:
As Americans, most of us get more than enough protein in our diets, in part because we eat more than enough calories, so you don't need to go crazy with this goal.
The fitness industry has at different times pushed protein shakes, powders, and bars as if these are the ultimate way to build muscle and gain energy. Extra protein beyond what your body needs doesn't do anything except provide extra pounds.
Our youngest son was diagnosed with a rare genetic metabolic condition (GA1) in which his body does not properly digest protein. (Click here to read what I wrote about Zack's condition.) One of the aspects of this life-threatening condition is that he follows a very strict low-protein diet. In learning his diet (the exact opposite of what most people try to eat), I've learned exactly how much protein is in many foods. Almost every food you eat has some protein in it, and foods like whole grain bread, potatoes, broccoli, asparagus, and corn actually have quite a bit. So chances are good you are getting more than enough protein in your diet with what you are already eating.
That being said, there are a couple reasons to pay attention to protein.
People who exercise, especially those attempting to increase muscle, need more protein. You don't need a lot more but you do need some more. This can be achieved through one extra serving of protein (real food) per day.
Studies show protein helps with hunger. For me this is one of the most important reasons to pay attention to protein. People who eat a meal or snack with protein are more satiated and stay full for a longer period of time.
If you are using a phone app (Such as My Fitness Pal or My Net Diary), keeping track of protein is somewhat easier for you. You can log your food intake for another week, or look back on the first week and see how your protein intake was balanced.
I do not recommend counting protein grams or anything that strict. You do not want to become food-obsessed or create too much food focus. Be aware of protein intake this week and how it affects you. Also be sure to incorporate some protein with each snack or meal. Does it affect your appetite? Energy level? Be mindful.
When I sit down to eat, I typically eat fruits and vegetables first (to fill up on the lowest calorie, most nutrient-dense foods first), then I eat protein, then I finish with carbohydrates as I have room. This is just a general guideline. If there is an awesome piece of warm, fresh bread with butter, I'm going to have it! This is not about deprivation. But overall, the goal is to eat whole, healthy foods for 90% of your diet.
Here are some basic guidelines to follow:
http://www.webmd.com/diet/healthy-kitchen-11/how-much-protein?page=1
Email Corinne at [email protected] with additional questions about nutrition during training, or check with your doctor or a medical professional if you have additional questions or concerns.
Click here to download this prayer as a printable: FFL Prayer Week 3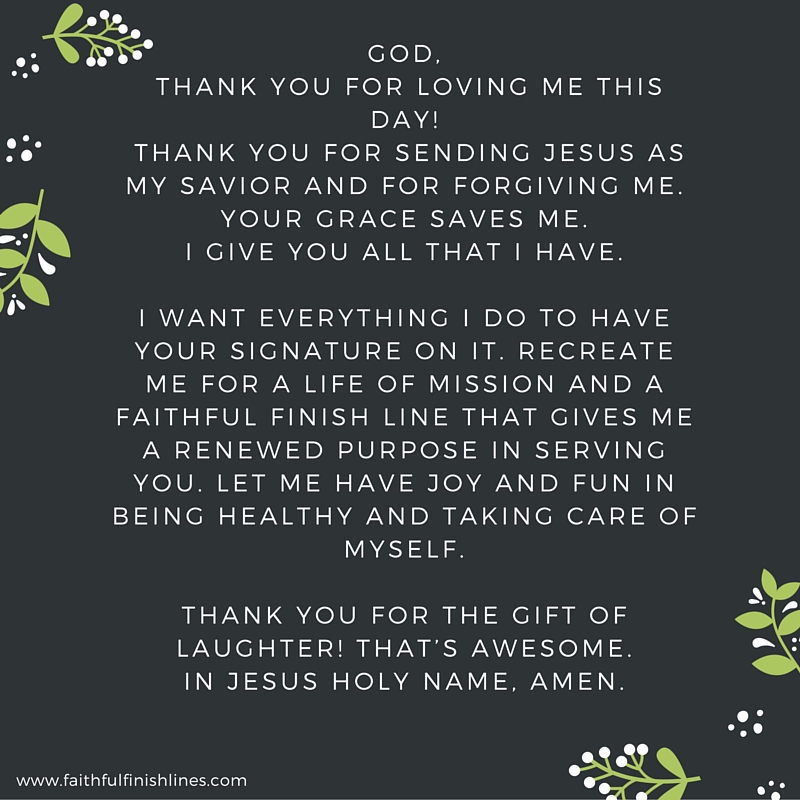 ---
Week 3: Phone Wallpaper
To download, view this page on your smartphone. Right click and "save as" photo. Use on your lockscreen or phone wallpaper.

---
Day 1: Faithful Finish Lines have a Mission. (Sunday)
Incorporating a meaningful mission into your Faithful Finish Line goal.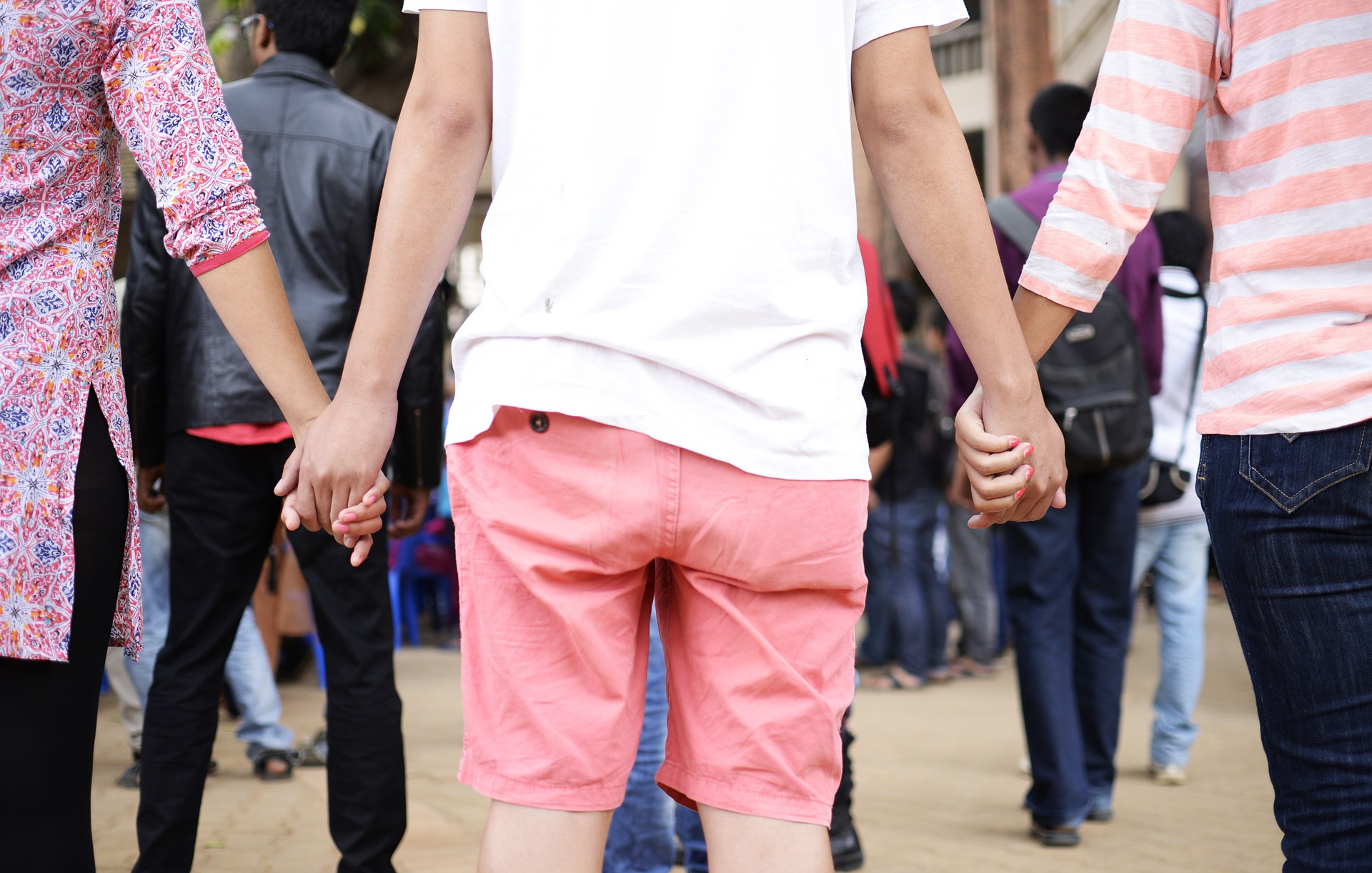 Absolutely God will use this 7 week time period to grow you into a healthier more fit person. You will eat well, exercise, grow stronger, even rest better.
Yet there is something about reaching outside yourself and doing for someone else. It is the great irony that makes perfect sense when you are working for God's Kingdom. The more you give, the more you receive,
"Give, and it will be given to you. Good measure, pressed down, shaken together, running over, will be put into your lap. For with the measure you use it will be measured back to you."

Luke 6:38
God calls you to be a light in the world, doing good in His name. You don't do this to earn favor with God or for salvation. Your salvation has already been won by Jesus on the cross. You do these things out of thankfulness for the amazing gift of grace.
Your Mission, Should You Choose to Accept it!
Choose a mission to go along with your Faithful Finish Line goal, then share it with the group.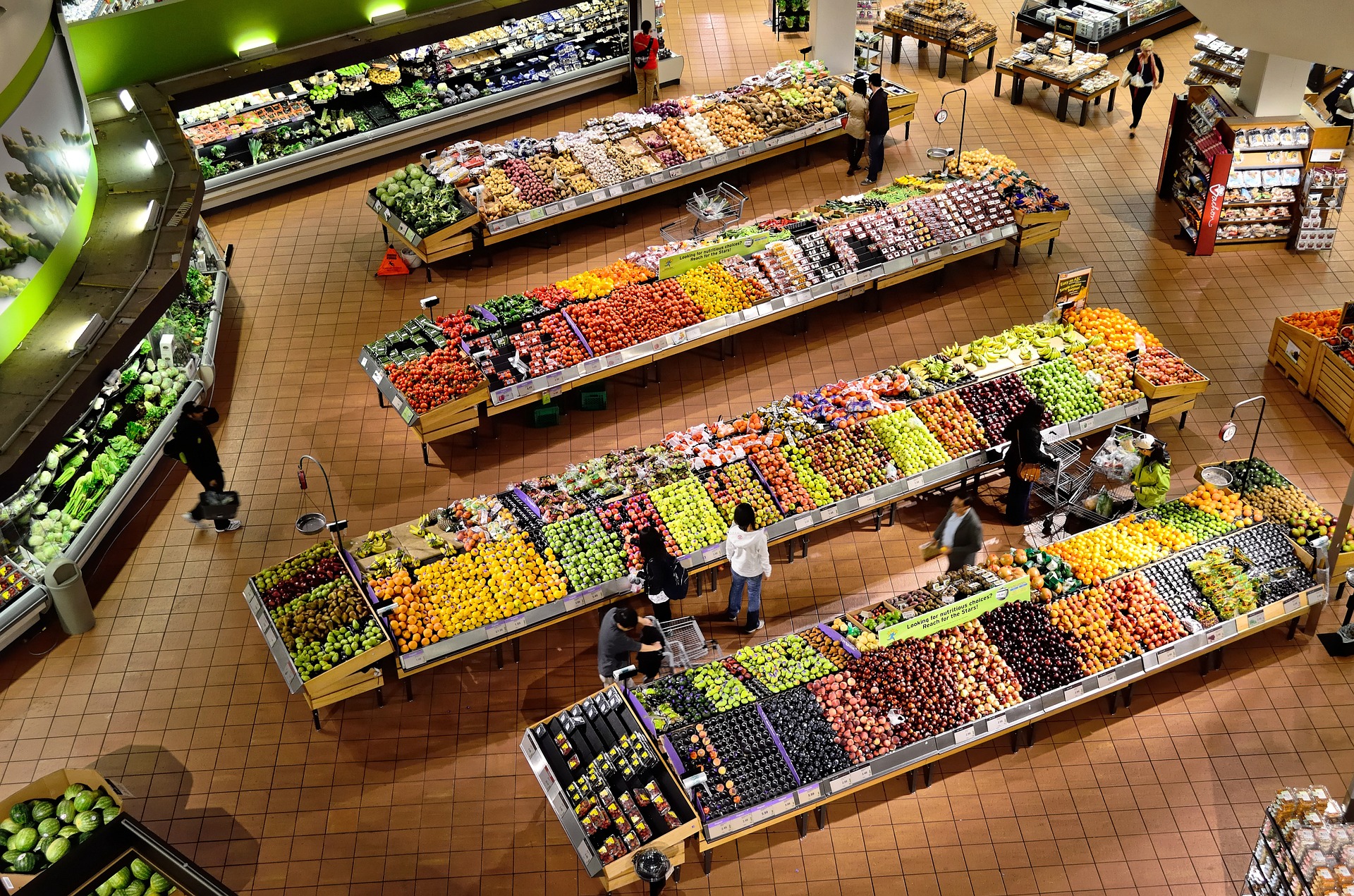 Here are some ideas:
Donate 1 pound of food to a food bank for every pound you lose during the 7 weeks, or every day of the challenge.
Choose a 5K that includes a fund raiser for a cause that is important to you.
If the 5K of your choice is not specifically a fund raiser, run in honor of someone you care about and make a donation to a charity in his or her honor.
Use your training runs as prayer time. Dedicate every mile to someone and pray for them during that mile. Pray for our FFL members with prayer requests from our prayer wall.
Write a letter to someone who has inspired you along your road to fitness. Perhaps give him or her a gift in honor of your accomplishment of this program and how he or she has motivated you toward wellness.
Pay it forward! Give someone else a gift of fitness — a race entry fee, pay a month of his gym membership or personal training fees for him anonymously, offer to watch a single mom's kids for her while she goes for a run.
Be creative! What other ways can mission be incorporated into your FFL goals?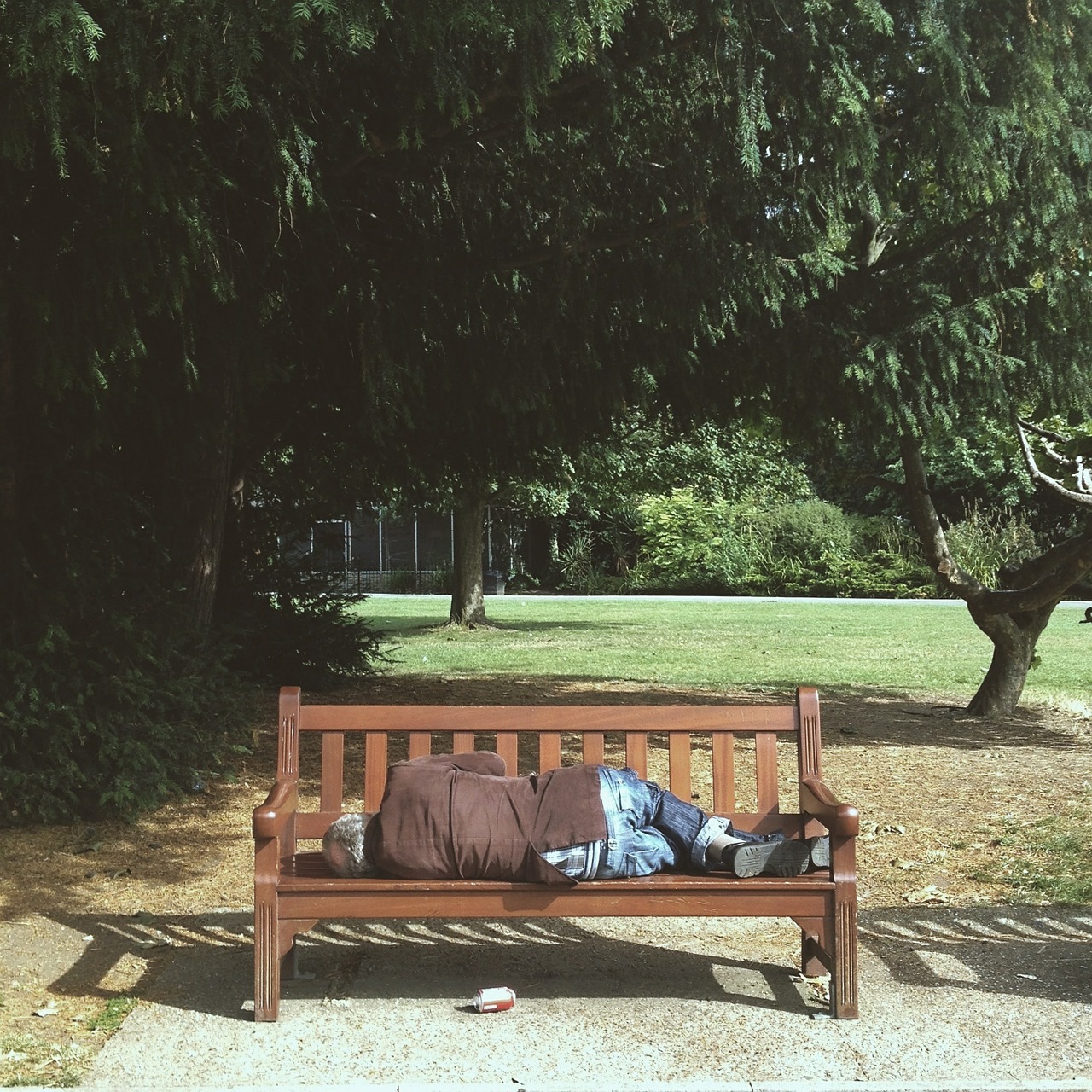 ---
Week 3 Bible Memory Verse (Monday)
Click for PDF printable version.

---
Day 3: Faithful Finish Lines are Fun! (Wednesday)
"See, I have set before you today life and good, death and evil. If you obey the commandments of the Lord your God that I command you today, by loving the Lord your God, by walking in his ways, and by keeping his commandments and his statutes and his rules, then you shall live and multiply, and the Lord your God will bless you in the land that you are entering to take possession of it."
Deuteronomy 30:15-16
I want to let you in on a little secret. This fitness goal you've chosen?
This is supposed to be FUN!
Have you ever been on a beach vacation where you enjoyed resting in the sun for a day or two, but then you became bored of just sitting around doing nothing?
Believe me, I love chilling out. After running around chasing 5 kids, I love nothing better than relaxing with a good book. But after a day or two I'm ready to go and do something, even if it's just walking around downtown with my husband.
Fun is not the same thing as easy. Think back to some memories in life that were fun, or activities you considered fun and enjoyable. Perhaps these activities are easy, but often not.
Hiking up a mountain is quite challenging yet can be very fun. The view from the top is totally worth the adventure. Even reading a book that gets my mind going is fun — part of the fun is within the measured difficulty. You need a good challenge.
Hopefully by now you have chosen a goal that is one step outside your comfort zone. If it's within your grasp, it's too easy. It should be *just* outside your reach. Rather than dreading the challenge, change your mindset.
See the challenge as part of the fun!
---
Day 4: Life is Better with Friends. (Friday)
For the longest time I was solitary in my exercise pursuits. When I exercised at all, I wanted to do things alone. Team sports were not my thing. I walked around in my neighborhood or went to the gym by myself.
When I started running, I would run at my own pace by myself. The thought of doing a fitness activity with someone else was nerve-wracking for me. I was sure I would be too slow, too out of shape, and too TOO…all kinds of things.
I was wrong.
You need people along your fitness journey. I needed coaches to mentor me, friends to walk beside me, and teammates to kick my butt or meet me at practice so I would actually show up. I needed spectators to cheer me on from the sidelines.
You need other people in this adventure.
Overeating is often a solitary activity. While at times it's socially acceptable to overeat, such as at parties or at holiday gatherings, much of my binge eating was done in secret. I hid from my family how much I was really eating. I threw away wrappers and cartons so people wouldn't know I had eaten the whole thing by myself. I was ashamed of my behavior.
I John 1:5 says, "This is the message we have heard from him and proclaim to you, that God is light, and in him is no darkness at all."
My desire for you is that you walk in the light. Walking with other people is part of this process.
Time spent alone is great. I still love a solitary run and the time for prayer, reflection, or jazzing out to music. But I also need people in my life regarding fitness to keep me accountable, teach me, and inspire me.
Some of you need to consciously build a network of support people who encourage your active lifestyle. Pray for God to bring these people into your life.
---
Copyright © 2016 Sara Borgstede, Motivational Speaker and Author, All rights reserved.
Content as part of your exclusive Faithful Finish Lines membership.