Use these proven tips to create a solid meal plan for recovering from binge eating disorder to gain a healthier relationship with food on your road to recovery.
What's a good meal plan for a recovering binge eater? If you are healing your relationship with food and desire to break free from eating binges, you may wonder what a healthy food plan looks like.
Perhaps you are worried that your eating isn't normal, or you live in fear of calories because you will gain weight. You might be afraid that adding back trigger foods will send you into another binge. Let's look at how to meal plan for binge eating recovery.
This article is not intended as medical advice. Always seek the help of a qualified professional.
Meal Plan For A Recovering Binge Eater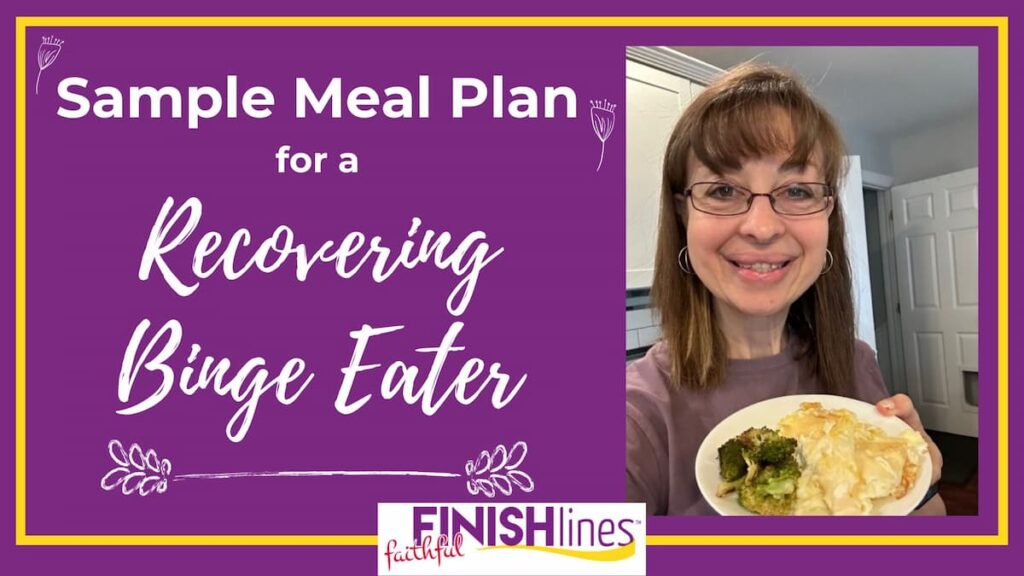 What is Binge Eating Disorder (BED)?
Binging eating is compulsively consuming excessively large amounts of food, often in private or secret. Put simply, binging is eating to the point of physical pain.
Engaging in food binges on a regular basis is an eating disorder that requires the help of a professional. Click here for a binge eating quiz by the National Eating Disorders Association.
Recovery involves eating enough, normalizing food behaviors, and managing emotions.
As someone who has been in recovery from binge eating for many years, the foundation of my healing is taking in adequate nourishment, regularly and throughout the day.
While eating intuitively is a worthwhile goal, for some of us, a more structured, step-by-step plan is helpful. In the worst of my binge eating times, I was binging every single day, often multiple times a day. I had no idea what my body's hunger and fullness signals were because I had eaten past them for so long. I had no concept of gentle fullness, and I didn't know where to begin with healthier food intake.
I saw hunger as the ultimate enemy. I attempted to ignore it, distract myself from it, pretend it didn't exist, and reject it as much as I could. The power of will is strong, and I could fast or eat very few calories for a while…but then my hunger always came back stronger than ever.
I would binge, feel horrendous guilt and shame, and the cycle continued.
What does a meal plan for a recovering binge eater include?
As Katherine Hansen teaches in her book Brain Over Binge, the foundation of recovery is eating adequately. Because every person's body has different metabolic needs, it's impossible to say precisely how many calories your body requires. A general guide is that most women need at least 2,000 calories daily.
1. Let go of fad diets & restriction in your binge eating disorder recovery meal plan.
If you aren't eating enough calories, no amount of therapy, mental processing, journaling, environment changes, or spiritual work will fix your binge eating.
What if you need to lose weight? The thought of weight gain strikes a dagger of fear into the heart of almost every binge eater. That's the whole reason we got ourselves into this mess in the first place! The last thing we want is to even consider gaining more weight.
I want to encourage you to set aside your weight loss goals for this season. That doesn't mean you can't ever lose weight. For today, your goal of dropping pounds is not serving you. Very few binge eaters (especially if it's a behavior you've engaged in for years) will be able to lose weight and stop binging at the same time.
2. Use flexible meal planning for your recovery meal plan.
My business partner with Faithful Finish Lines, Becky, says, "Go at the speed of safety." This is a beautiful concept for binge eating recovery.
As you look to create your own meal plan, remember that there is no one right way. Do what feels safe for you today. I know that many recovery coaches believe that counting calories is destructive or meal planning is too strict.
I disagree. If tracking calories on an app like My Fitness Pal helps you, then do it. If planning meals or food prepping helps you relax, go for it. Many of us feel better with boundaries in place as we develop a healthier relationship with food.
Structure is helpful for people recovering from all types of eating disorders. That's why dieticians and doctors have set meal plans, times, and expectations for people who receive treatment within inpatient programs.
Think about how you can do your grocery shopping in a way that supports your mental health. We are fortunate to live in a time when you can order online and have food delivered if going to the grocery store is triggering for you.
On the other hand, many binge eaters get into the habit of using DoorDash, Instacart, and other food delivery apps to bring them trigger foods. If that's the case for you, I recommend deleting those apps from your phone and planning to shop in stores for now.
3. Build a regular eating pattern into your binge eating recovery plan.
Below are guidelines I found helpful when learning how to eat in a more normalized way, and many women I have worked with have found these beneficial as well.
Don't look at this as a set of rules. These are helpful suggestions. Pick and choose one or two ideas and see how they work for you. When those feel comfortable, choose another idea to try.
Think like a scientist and imagine you are running a series of experiments. Release judgment.
Divide your total day's calories or food amount by four. Eat 1/4 for breakfast, 1/4 for lunch, 1/4 for dinner, and 1/4 for snacks. This prevents getting overly hungry or too full at one sitting.
Set an alarm on your phone for meal and snack times.
Eat every 3-4 hours.
During this initial stage of recovery, eating a little bit over-full is better than under-eating and then binging due to primal hunger.
Release perfection. Even thin people overeat and undereat sometimes.
Remember, there is no perfect eater.
Aim to give yourself nutrition every day while allowing for some treat foods. Choose treats that are enjoyable but not too triggering.
Keep your kitchen stocked with healthy, filling foods that you enjoy and look forward to eating.
Eat from all the macronutrient groups – carbohydrates, protein, and fats. Ideally, include some of each at every meal and snack.
4. Manage emotional eating while you are recovering from BED
One of the most critical aspects of binge recovery is learning to manage your emotions. Most of us who binge eat are also emotional eaters. When life's challenges, stresses, and struggles feel overwhelming, we turn to food to seek comfort.
On top of that, you probably have feelings of guilt and low self-esteem due to the binge eating itself. Now you are dealing with another stress on top of the stress you already had.
An important key to recovery is learning to feel your feelings without turning to food to numb or find emotional release. This will be a gradual process, so give yourself grace during this time.
One simple place to start is by delaying the binge. When binge urges come, they are incredibly powerful. The thought of not binging can feel almost impossible. Start with a delay. Can you wait 5 minutes? Then 10 minutes? This slight pause may seem inconsequential at first, but you can stretch it out over time.
Ride the waves of the urge. This is sometimes called urge surfing. Picture yourself as a surfer riding an ocean wave. The wave of feeling might feel incredibly strong, but remember that it rarely lasts for more than a few minutes.
Treat yourself with the grace and compassion that God extends to you. We are often so hard on ourselves. Think of how you would speak to a good friend, and allow yourself the same kindness.
5. Navigate social situations as a recovering binge eater.
Family meals, parties, restaurants, and social get-togethers can feel like a battleground when you have food issues. Other people are laughing and having fun while munching on snacks and desserts, yet you feel paralyzed. You may want to avoid situations that involve food altogether.
During the years that my binge eating was at its peak, I tried to eat like a "normal" person at parties and events. This meant eating very little and choosing the most healthy foods possible. I was embarrassed and ashamed of my weight, and I didn't want people to see me as the fat girl pigging out at the party.
The trouble was that I felt incredibly deprived (plus jealous that other people had it so easy), so I went home and binged later.
I would have been so much better off if I allowed myself to have some appetizers, treats, and desserts in social situations. One of the worst things you can do at social gatherings is try to be good to the extreme.
Before the event, plan how you will manage the food offered. Allow yourself a certain number of calories, points, or servings of treat foods. Think of this allowance as binge-prevention.
Meal Ideas for Binge Recovery
Here are some examples of healthy meals to use during your recovery process.
Breakfast
Egg casserole with eggs, cheese, and vegetables, serve with a banana
Oatmeal, nuts or seeds, berries, with a side of sausage or bacon.
Scrambled tofu with onions and peppers
Breakfast sandwich with English muffin, cheese slice, sausage, serve with an apple
Lunch
Canned soup, crackers, baby carrots with ranch dip
Half a sandwich with lunchmeat and cheese, and half a salad with salad dressing
Leftovers from last night's dinner
Tortilla roll up with beans, salsa, and cheese, serve with a side of steamed broccoli
Dinner
broiled pork chop with roasted green beans, potato with butter and sour cream
grilled chicken thigh, baked sweet potato, roasted root vegetables
sirloin steak, mashed potatoes, roasted broccoli
turkey or chicken sausage, brown rice, mashed cauliflower
vegetarian bean burger on a whole wheat bun, baked French Fries, and side salad with dressing
Snacks
yogurt with a sprinkle of mixed nuts or granola, berries
cereal with milk, sliced banana
cottage cheese, cantaloupe, almonds
whole wheat or sourdough toast with avocado and sliced tomato
apple with peanut butter
raw veggies, pita chips, or crackers, hummus
treats like chips, ice cream, chocolate, or baked goods – if this feels too triggering, bring just one serving home or eat them while out
Sample 3 Day Meal Plan to Heal From Binge Eating
Here is an easy meal plan to use as a guide as you are recovering from binge eating. This is a simple plan to help you normalize your eating habits. We did not include specific serving sizes so that you can adjust for what is suitable for your body.
Day 1
Breakfast – whole wheat toast with avocado slices, hard-boiled egg slices, a sprinkle of Everything But the Bagel seasoning
Lunch – vegetable beef soup, saltines, pear
Afternoon Snack – granola or protein bar
Dinner – lasagna, side salad with dressing and croutons
Evening Snack – oatmeal with peaches and pecans
Day 2
Breakfast – scrambled eggs with bacon, watermelon slices
Lunch – lunchmeat and cheese sandwich on whole wheat bread with mayonnaise, mustard, and pickles, baked chips, clementines
Afternoon Snack – baby carrots with hummus
Dinner – pepperoni pizza, breadstick, side salad with dressing
Evening Snack – Cheerios with milk, banana slices
Day 3
Breakfast – overnight oatmeal with oats, yogurt, chia seeds, and berries
Lunch – tortilla wrap with refried beans, cheese, and salsa, side of corn
Afternoon Snack – pumpkin muffin with cream cheese
Dinner – turkey burger on whole wheat bun, frozen French fries, steamed broccoli
Evening Snack – air-popped popcorn, 1 small bag of M&Ms
My Story: Before and After Binge Eating
I was a binge eater when I was a little girl, coming home from school and bringing in boxes of packaged cheese, crackers, and Little Debbie treats that my mom had bought for my school lunches.
During my teenage years, I came home from school daily and binged to deal with the stress of being picked on and teased as an overweight teen.
During my early adult years, I drove through for fast food and ate it secretly in the car. Later, when my kids were small, I ate during their nap times and after they went to bed. As my binge eating became more serious, I even binged in front of them, as much as I was ashamed of my behavior.
In my early 30s, I knew something had to change. I began therapy for weight loss and learned to feel my feelings and manage life's stress without turning to food to cope.
Today, I am maintaining a 100+ pound weight loss and no longer binge eating. I rely on God's power to help me continue with healthier habits.
I know that binge eating can feel like an impossible problem to overcome (especially if you've been binging for many years), but full recovery is absolutely possible.
Treatment Options Binge Eating Recovery
BED is an eating disorder that requires the professional help of a qualified healthcare professional and often involves the support of a team, including:
Therapist
Registered Dietitian
Doctor
Eating Disorders Treatment Program
Are there nutritional supplements that help with binge eating? No, there is no specific supplement that eases the desire to binge eat. If your diet has become unbalanced, a multivitamin may be helpful. Talk to your doctor for recommendations that are right for you.
Are you recovering from binge eating and figuring out what to eat? Share in the comments below.
More Posts To Help You Quit Binge Eating
A Weight Loss Prayer For Emotional Eating
A Weight Loss Prayer for Food Obsession